Don Scarlett
President
Don has been a KiN Board member since 2009, presently Board Chair.  Sees KiN's Internet service as essential to the economy of Kaslo and North Kootenay Lake and believes rural areas deserve the same level of service as cities. 
Holds mechanical engineering degree and has run a small electrical contracting business in Kaslo since 1973.  Specializes in construction planning and volunteers for construction, equipment installation, and welding/fabrication when needed.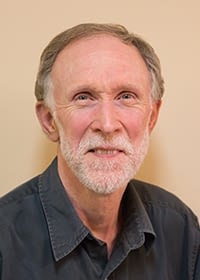 Isaac Maxfield
Treasurer
Executive Director

Isaac and his wife moved to Kaslo in 2017, lured by the beauty of the area coupled with an internet connection that could support remote work. The welcoming community filled with wonderful people was an unexpected benefit!
While he holds a Bachelors of Engineering degree, most of Isaac's career has been spent in the IT sector. He brings a broad spectrum of best-practice experience in IT project and service management, and a passion for non-profits.
Isaac is also an active volunteer with Kaslo Search and Rescue, and his community spirit led him to join the KiN Board early in 2021.
In October of 2021, Isaac was appointed as KiN's Executive Director, taking on an exciting new role within the organization to help continue the growth of KiN's network and services, and further serve our community.
Josée Bayeur
Secretary
Originally from Québec city, Josée became Board director in 2015. She moved to Kaslo in 1980 and raised her family here. After her children left home she spent a few years in Latin America, then  went to Montréal to get her Master's degree in translation from English to French. Now retired, she runs a small sewing business out of her home.
She joined KiN because she considers a good Internet service indispensable and at the heart of everything we do. Josée serves as social media contact.
Jean-Michel Longval
Vice President
Jean-Michel and his wife escaped from the city of Calgary and moved to Kaslo in 2018.  The wild natural beauty of the area, the endless opportunities for outdoor adventure and the prospect of a healthy lifestyle within a vibrant community attracted them to the Kootenays. Jean-Michel holds a degree in Atmospheric Science from the University of Alberta and currently serves the region as an Air Quality Scientist.
Jean-Michel believes in the power of local and community led organizations to foster strong sustainable economies and views the service that KiN provides as essential to the well being of the North Kootenay Lake communities. He considers it an honor to be part of KiN and will strive to uphold the values and commitments of the society.
Dan Trobak
Director

Dan is a multidisciplinary designer, who works in both print and digital media for clients across Canada. He has a background in Visual Communications and over 20 years of experience in the Canadian design industry. He has been living and working in Kaslo since 2005. In that time he has advanced from working on a dial-up connection, to high speed fibre-optic, thanks to KiN. The service that KiN provides makes it possible for anyone to work from this remote mountain village. Dan is happy to join the board and help Kin continue to be a leading rural community internet provider.
Bob Gazzard Director Bob moved to the area in 2017 and settled in Meadow Creek after spending a long career spanning 4 decades in Voice and Data Networks, both as a contractor and as a small business owner (first ISP in Alberta outside of Edmonton and Calgary). The final eight years of his career were spent as a construction manager in the design, routing and installation of fibre optic facilities for IT and Process Control systems and their corresponding data centers in an industrial setting. Bob currently sits on several community boards including the Economic Development Commission, Kaslo Search and Rescue (treasurer) and Lardeau Valley Opportunity Links. Finally retired, but just as busy as ever, Bob joins his son, daughter and new grandson in the Kootenays!
Cassie Gerretsen
Director
Angele Ortega
Director
Angele moved to Johnson's Landing from Penticton in 2003 to help Richard run his Retreat Center. She was publisher of Issues Magazine for Empowerment (1990-2017) and bought a satellite link so she could continue publishing.
When a KIN spokes-person arrived on their out-of-the-way doorstep a few years later she delightfully supported the concept of local  wireless connectivity.
She knew Don Scarlett via their bee-keeping hobbies and was intrigued with his down to earth commitment and dedication to his evolving idea of "We can do it ourselves" attitude.
Once the Retreat Center sold and they moved to Kaslo, she decided it would be good to contribute to a community organization. Supporting people like Don, who have a vision to make the world a little better appeals to her sense of wholeheartedness.