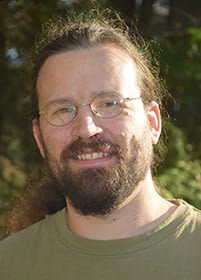 Tyler Hamilton
Network Administrator
Tyler has been KiN's Network administrator since 2013, after being a web developer for KiN since 1999. His previous experience includes working as a Sysadmin/Developer with a VoIP company in Vancouver, and a Sysadmin/Volunteer support/sales/Warehouse for a non-profit re-use/recycling organization in Vancouver. Tyler grew up in Meadow Creek and in Kaslo. He is now raising his two children in Kaslo.
Samuel Truchon
Field Support Technician
Sam has been supporting desktop computers since 2002 and has corporate IT Support experience. Past experiences include lead technician at Kootenay Lake Computers, bench tech and field support at The Repair Factory, and IT manager for Can-Filters Group. Sam moved to Kaslo from Québec at the age of 5 and has lived locally since, having attending J.V. Humphries school from Kindergarten to Grade 12.  He brings extensive customer service experience having managed retail environments and is excited to be part of a team bringing cutting-edge connectivity to the communities he grew up in. Sam currently lives in Kaslo with his son and his wife Mélanie who grew up in Meadow Creek.
Hillary Schell
Office Manager
Born and raised in Argenta BC, I headed off into the wider world after graduating from JV Humphries. I played basketball and studied Anthropology at Okanagan University College/UBC Okanagan in Kelowna. After several years of studying and travelling, I settled in to a sixteen-year career in Management at the Casino in Kelowna. My boys were both born in Kelowna and in April of 2020, I made the decision to follow my heart and move my boys and I back to the north end of Kootenay Lake. I am truly excited to be a part of the KiN team and look forward to connecting with the community from my role as office manager and tech level 1 support.