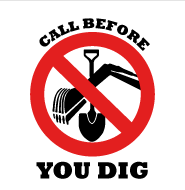 On April 14, just before the Easter long weekend, Kaslo infoNet suffered a serious outage when a large excavator working near the Firehall cut the buried fibre-optic cable that serves Balfour Avenue, Balfour Crescent, Kaslo Heights and the Back Road.  KiN was not notified in advance that this work was planned and no one contacted BC One Call (of which Kin is a full member).  Our construction manager heard about it via cell phone while he was driving to Castlegar.
Given the lack of advance notice, KiN did not have an employee available who was experienced with our metal detector or knew the routing of the fibre.   The result was not only a cut fibre cable containing 144 fibre strands, but tension on the cable broke the connections at the Firehall fibre switch box as well.   Up to 219 fibre splices, all matching the original connections, had to be performed in a new underground vault, as well as reconnecting the switch box.
This incident required extraordinary overtime work on the long weekend and full days into the following week to fully repair.  Many KiN subscribers were deprived of Internet and/or VOIP phone access for several days.  KiN issued refunds to all affected subscribers for the loss of service.  The costs to repair this were substantial, in addition to stress on our loyal and hard-working staff.
That is what can happen when an excavator driver is put to work without any attempt to consider buried infrastructure or contact BC One Call.  We hope that a lesson has been learned and that the affected KiN subscribers will appreciate our efforts to restore service as quickly as possible.
We will be reaching out to machine operators in Kaslo and Area D to ensure that they are aware of our buried infrastructure and the extent of our network.
Fibre optic cable is an essential service.  Besides Internet access, KiN provides 911 service to its VoIP subscribers.  It is essential that everyone understand that BC One Call (1-800-474-6886) must be contacted before planning to dig.